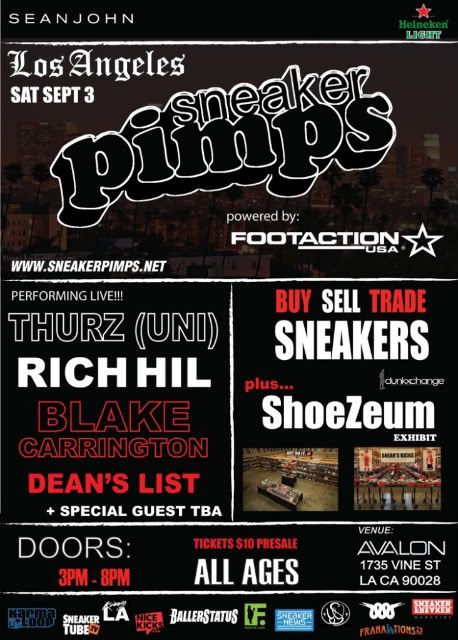 Attention sneakerheads, Jordan and SB collectors and hip-hop fans – the Sneaker Pimps are doing a national tour that kicks off this Saturday September 3rd in Los Angeles at Club Avalon Hollywood. Live performances by The Game, Rich Hil & The Dean's List along with live art, sneaker exhibits and buy-sell-trade kicks. You could find those coveted Jordan IIIs or VIs you wanted or those damn Crayola SB Dunks that I ruined at Lollapalooza (seriously – if you find those – holler!)
Not only should the sneakers be top notch, but it should be a dope show as well with The Game performing songs off his latest project, The R.E.D. Album (iTunes). Tommy Hilfiger's son, rapper Rich Hil, should be an interesting act to watch as Rich Hil recently signed a deal with Warner Bros. Records last month. Check out the youtube video of his signing. Lastly one of my favorite Boston hip-hop acts, The Dean's List, bring their unique genre-blending act to Los Angeles, performing for the 1st time out in the city of angels.
If you're not in LA, don't fret as Sneaker Pimps are doing shows in Houston, Miami, Atlanta, Chicago, Washington DC, Philadelphia and New York City. Check out all the tour dates here.
Tags: Avalon, Deans List, Hilfiger, kicks, nike boots, Rich Hil, shoes, Sneaker Pimps, sneakerhead, The Game